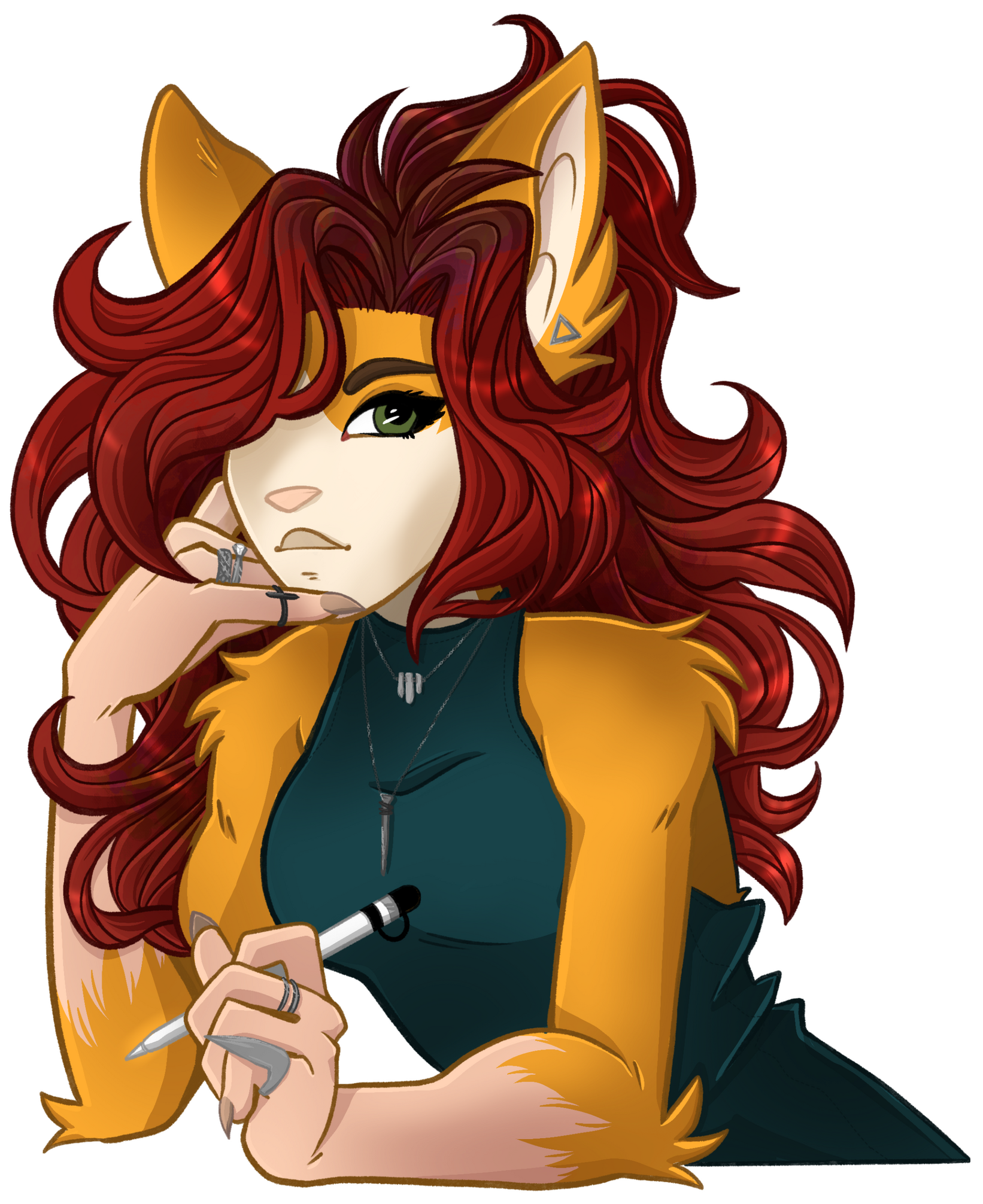 Commissions
Available commissions and current base pricing.Any questions? Ask!
Some small notes...
␥ I don't do Telegram stickers, but I can format/resize your comm for telegram if you want to add it to a sticker pack!␥ I'm also happy to provide a copy of your comm with a transparent background if you want to use it for something that requires that.␥ I don't take explicit adult commissions, but I'm always up for stuff like pinups! Nude, bondage, etc. May or may not incur an extra fee, depending on complexity.␥ Reference sheets START at $250 for a basic front/back sheet and go up from there depending on complexity. I don't take these often, contact me if interested.
Sketches - $50+
Digital sketches of your character.
$50 - Bust
$55 - Half Body
$60 - Full Body
Complex characters (extra limbs, big wings, etc.) can incur an extra fee. Two characters is double the base price.
I generally do not send WIPs of these by default, as they are quick to do and I've not had issues with accuracy. But if you've got something kinda complex or two characters or something I'll probably pop it over to see if it looks good. Basically, if you want to see the rough before I refine it, ask me!
Small tweaks after completion, such as fixing markings or other small adjustments, are no issue!
You'll receive web-sized and high resolution versions for your own personal usage.
---
Examples
Conbadge - $75
$75 - Base Price
Price can go up depending on complexity.Digital conbadge with simple shading of your character with their name. You get web sized and high resolution files with name and without. Can be printed/laminated and shipped if requested, but I can also provide you with a print-friendly CMYK file so you can print it yourself or replace it if you should lose it or the badge gets damaged.I offer free print/laminate and delivery at cons I attend, which is generally only Anthrocon.Half body versions just don't have the name on them and have a simple background.
---
Conbadge Examples
Half Body Examples
Full Body - $125+
Full body, single character, usually a little experimental. Pieces like this can have a wide breadth of pricing, depending on what you're looking for.
---
$125 Examples
Flat color or simple shading, minimal backgrounds.
$150+ Examples
More complex characters or outfits, minimal backgrounds, shading. These examples run the gamut from $150 on the more simple end to around $200+ with shading + background and such.
YCH Commissions - $ Varies
Full Body:
$100 - Inks
$125 - Flat Color
$150 - Full Color / ShadedHalf or 3/4 Body:
$75 - Inks
$100 - Flat Color
$125 - Full Color / ShadedYCH's are a chance to get a commission piece for a little lower than the standard prices. I add new poses every now and again, but as long as this section you're reading is here, there's some poses available through the link below!You can find all the available YCH poses, information, and examples of finished pieces over here: